Recent News
---
Persona at B101
Persona is a group exhibition of photo media works on the self portrait. Each of the four artists are using images of their face to explore the notions of persona, the visual identity or social mask that we present to the world.
The four artists are Greg Neville, Kirsten Perry, Karenne Ann, and Sean Payne. The exhibition was at B101 Gallery, ground floor, St John Street Prahran, April 11-23, 2016.
After Words at Tacit
This is the fourth annual exhibition I've shared with a group of my former students. We exhibit together annually, interpreting a word theme that we select. This year it's 'after words', a title that gives scope for varied interpretations.
The exhibition ran at Tacit Contemporary Art from August 12 to 30, 2015
Man in the Street at Tacit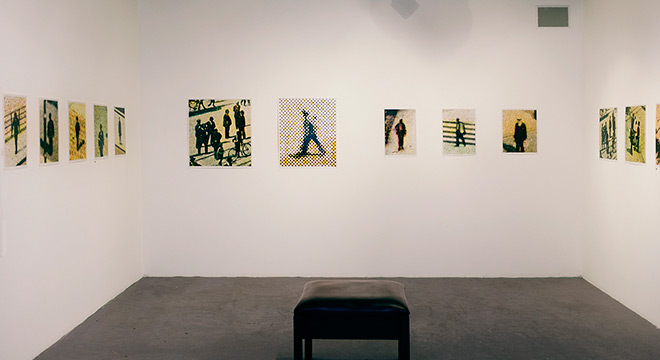 This solo exhibition is derived from the tiny human figures in my collection of Edwardian travel postcards. These details have been enlarged to gallery-size prints showing male figures partially abstracted by the coloured printers dots.
The exhibition opened at Tacit Contemporary Art in Abbotsford on June 10 and ran until June 21.
Salon at Centre for Contemporary Photography
The annual CCP Salon is an open-entry exhibition that fills the galleries with new work from Victoria's photographers. For this year's CCP Salon I presented an image from my recent Solo show Burn. The Salon ran from November 14 to December 13.
Momentary at Tacit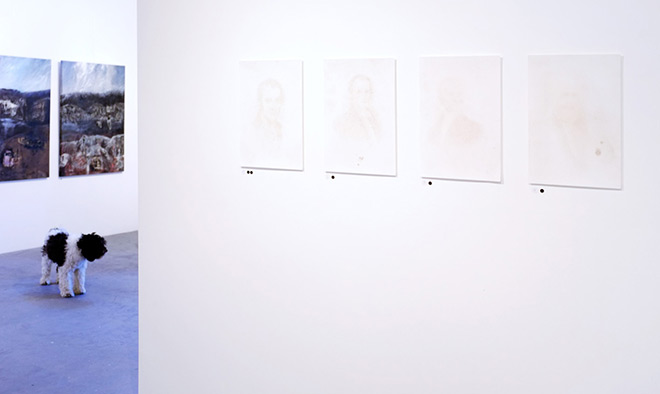 Momentary is a group exhibition of six photo media artists who explore the word 'momentary' using various photo media techniques. My four pigment prints are derived from a series of engraved portraits of the 19th century poet John Greenleaf Whittier.
This is the third annual exhibition with the group of my former photography students. Momentary was at Tacit Contemporary Art from 3–21 December, 2014.
Snapshot at Carbon Black
Snapshot is a group exhibition of artists who have exhibited at Edmund Pearce Gallery. My work is a re-installation of my recent exhibition Burn.
The exhibition ran from 25 September to 5 October at Carbon Black Gallery, High Street Prahran.
Gooog at Tacit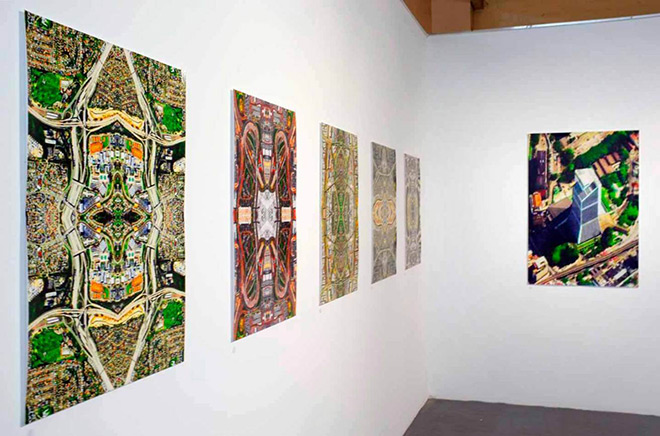 My second solo exhibition for the year is Gooog at Tacit gallery. These works are from Google Earth images of roads and skyscrapers, made into decorative patterns and signs. The exhibition is part of my ongoing exploration of the limits of photographic representation.
Gooog ran from 17 September to 3 October at Tacit Contemporary Art, Johnston St Abbotsford.
Burn at Edmund Pearce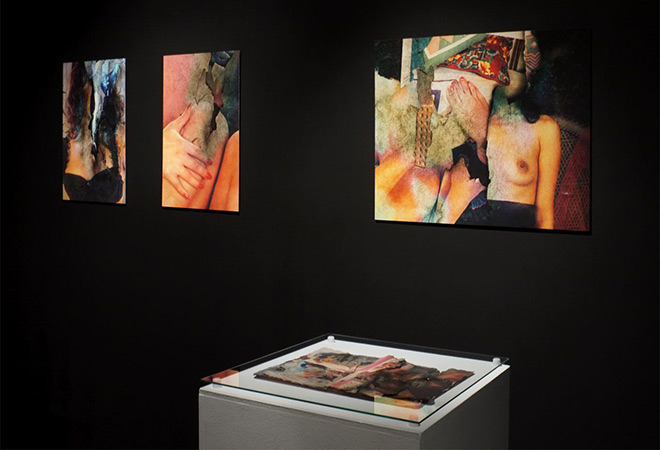 Burn is a solo exhibition of pigment prints made from photographs of a soft-porn magazine. This damaged relic was found on the ground at the Flinders Street rail yards, torn, weathered and burnt. The images combine the lush female flesh with apocalyptic traces of ash and decay.
Burn ran July 30-August 23, 2014, at Edmund Pearce Gallery, Nicholas Building, Melbourne.
Random at Trocadero
Random is a group exhibition of work made from re-purposed materials. It is curated by Vicki Saray and runs until October 12 at Trocadero Artspace, 119 Hopkins St Footscray.
The Advertiser's Art
is my piece, a parody project of ads torn from magazines and put in cheap frames. The ads reference fine art in various clichéd ways.
Folded at Tacit
This is the second annual exhibition with my group of ex-students from NMIT. The theme is the word 'folded' and each of the six artists interpreted it using photography.
My piece is a group of black & white photographs of corrugated iron, lit by raking sunlight. The exhibition was at Tacit Contemporary Art during August.
Chemistry of Chance at Edmund Pearce
Chemistry of Chance is a two-person show with colleague Greg Wayn, at Edmund Pearce Gallery, February 13 to March 9.
The exhibition consists of students' discarded prints found in college darkroom bins over many years. The developer chemicals in the prints had reacted with the air creating abstract stains. These have been edited and enlarged as pigment prints. "The product of alchemical events occurring in the silver emulsions, these images are mysteriously beautiful compositions of abstract photography."
Face/Time at Tacit Contemporary Art
Face/Time is a two-person show with my colleague Kirsten Perry. The exhibition is a form of self portraiture as our own faces are the source of the imagery.
The word time refers, in my work, to the process of decay, literally through the time sequence that produced the images, repeated photocopying resulting in a form of information decay. Time is also present in the idea of physical decay implied in the fading, dissolving faces.
CCP Salon Win
My picture, has won a prize at the CCP Kodak Salon, for 'Best Use of a Found Photograph' (gift voucher from CCP Shop, $100).
The image is called "1931″ and is from a snapshot of my late mother, a schoolteacher, with her students in rural Victoria in 1931. The image has been heavily blurred to create a distancing effect, and because of the tones in the original photo, the blur looks like a distorted skull.
First Prize at the Stockroom
Span is the new exhibition at the Stockroom gallery in Kyneton, on the theme of 'connection, distance and the passage of time.'
The exhibition was judged by Karen Woodbury, and I have won first prize, and a cheque for $3000!